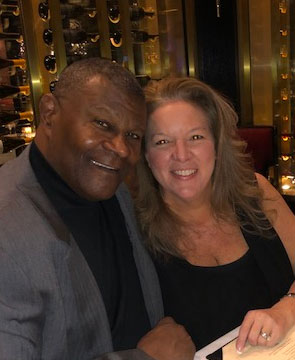 Patrons for Peace Project occasionally has a need for investigative services to help clients. We were extremely fortunate several years ago to have stumbled upon The Premiere Group. These investigative professionals are a husband and wife team who truly get the job done. They each possess an amazing skill set and complement each other in this incredibly difficult job. This professional team has assisted with numerous situations that have helped our clients attain a life with dignity.
One situation The Premiere Group assisted with involved a homeless man who was extremely ill with metastatic cancer. He was barely able to walk and was living behind a dumpster in Laurel. He was admitted to the hospital and there he showed us a crumpled, worn-out photo of two little children. He had carried it around for two decades. He had not had contact with his children for years. His dying request was to see his children. The Premiere Group was able to assist with finding one of the children. We took the lead and got in-touch with a daughter who in turn reached out to her siblings. The children were able to have a bittersweet reunion to say goodbye.
One other situation involved a man who was very paranoid. Patrons for Peace Project was trying to help him get Social Security Disability. He had continued to be denied due to a lack of evidence proving his paranoia existed. This illness needed to be documented in numerous situations, so it was truly believable to the doctors who decide. This man believed he was being watched in his apartment through different key holes and light fixtures. He also believed listening devices had been planted in the apartment. With the man's permission, we hired The Premiere Group and they came to the apartment. The detective combed through the entire apartment showing the man each fixture, sometimes unscrewing, and removing overhead lights proving that no listening devices were present. The detective was so incredibly kind explaining everything he did each step of the way. When he was finished, we received a report explaining what he did and what he found. (Patrons for Peace Project was present during the investigation.) This was used as part of the man's portfolio for his case. He ultimately won his disability.
We cannot talk about everything that The Premier Group has done for our clients, but I will tell you that the help they have provided has at times made the difference between life and death. We are so grateful for their quick responses, trustworthiness, dependability, and their incredible ability to think creatively. Thank you, The Premier Group. You change lives!