This February we are featuring Ali Thakkar, a pharmacist who owns The Laurel Main Street Pharmacy.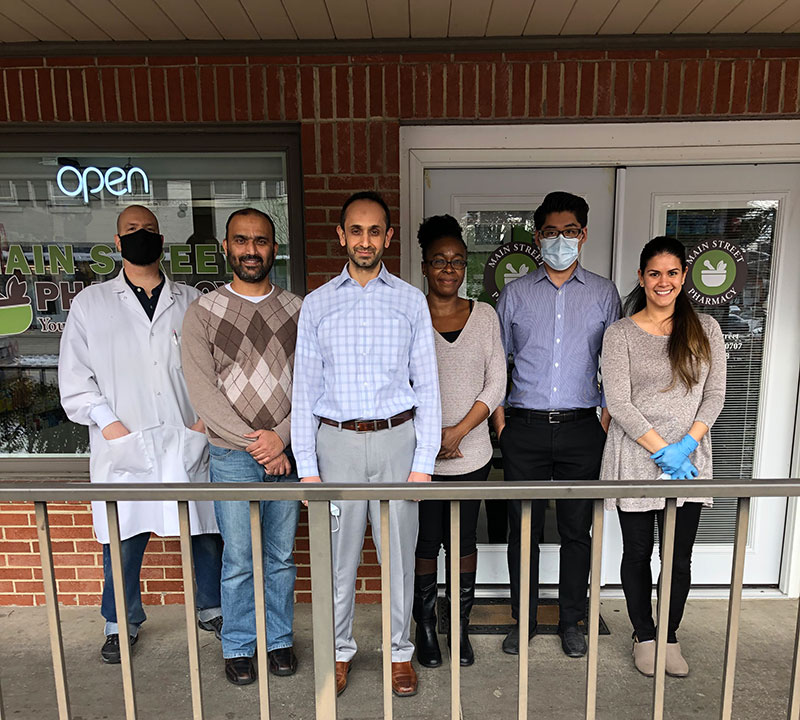 Patrons for Peace Project is extremely fortunate to be able to use the services provided by The Main Street Pharmacy for our clients. This pharmacy is housed in a relatively small space, but the many moving parts make up a powerhouse of therapeutic pharmaceutical tasks. The pharmacy is run very efficiently with a staff of seven where customers may hear French, Spanish, Hindi, Korean and of course, English spoken.
Ali can multitask using critical thinking skills tailoring and keeping the needs of each client on his mind as he fills prescriptions, counsels, and educates them about their medications. He is patient and adapts his protocol to meet the needs of his clients. The pharmacy can provide compliance packaging, bubble packaging, in addition to compounding where medications can be prepared in unique formulas for specific client needs. The pharmacy can provide Flu, Pneumonia, and Shingles vaccine to clients when needed.
The Laurel Main Street Pharmacy specializes in working with clients who have chronic conditions so
helping this population of people to be compliant with medication schedules is at the front of Ali's mind. He has an auto-fill program set for clients at their request and three drivers who can deliver medication throughout Prince George's County, Baltimore and of course locally here in Laurel.
Ali has created an atmosphere at The Main Street Pharmacy with his staff where our clients feel welcomed, respected, and cared for in a manner so they know they are getting special treatment. When they walk in the door services are quick, compassionate and their name is known. What Patrons for Peace Project Inc. really likes about The Main Street Pharmacy is that everyone is treated like a VIP when they come through the door. We are so grateful to Ali and his incredibly wonderful staff!