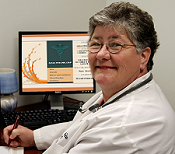 Patrons for Peace Project, Inc. has been extremely fortunate to partner with Barbara White, MSN, CNRP, a nurse practitioner whose office lies in Historic Old Town Laurel. She has saved the day for many of our clients in some incredibly unique and difficult situations so many times. Her skill set is so wide and all-encompassing that describing what she does is not possible in this monthly feature. She is the primary caregiver for many of our clients in addition to helping with one-time medical and/or psychiatric needs and treatments. Her office is tucked away down C Street near Riverfront Park and – although small – it provides mighty big acts of healing. One can often see NP students working in the office as Barbara imparts her wealth of knowledge and experience upon them and they learn what it takes to be the best at holistic, client-centered care.
Barbara's welcoming office manager Dawn greets and helps everyone to feel loved and treasured when they come into the waiting room. We once took a client to her who had recently been released from incarceration for many years. He needed to get psychiatric medication for his clinical depression. The wait period for this client to get into outpatient mobile psychiatric care was going to be a few weeks. Therefore, we needed to get an antidepressant to help him through the wait time bridging care while waiting for wrap around services. I will never forget when he walked into the office, Dawn greeted him, took him to a seat and helped him with needed paperwork. Dawn then handed him a holiday card. He looked astonished and said, "What is this?" She explained it was a holiday card prepared in advance for him. A tear ran down his face and he later told us he had not received any cards in years.
What we love about Barbara is her holistic approach to wellness. As such, she is concerned with the entire person when she treats them. People feel relaxed, restored, and safe to share what is on their minds when they come in for their appointments. One client told us they are so comfortable in Barbara's office that they feel like they are in their second home.
Barbara White's educational background is remarkably diverse. In addition to her advanced practice nursing degrees, she has a master's degree in Spiritual and Pastoral Care from Loyola College. Her eclectic background and treatment approach enable her to have eyes open to tailor unique modalities of care to achieve maximum wellness for each client. She is now a registered provider with the Maryland Medical Cannabis Commission. One size does not fit all in Barbara's office.
She is acutely aware of the disparities of our healthcare system that directly impact minorities.  She knows that racial and economic factors cause minorities to be disproportionately burdened by chronic illness and substandard medical care. She pays special attention to this fact in the care that she gives her clients. She spends extra time with clients when necessary, makes sure her fees are affordable, accepts Medicaid, and partners with community programs that uplift clients even when it means more work for her and her office.
Barbara's view of each client is not through a monocular lens looking at one illness, one symptom or one problem but instead taking on a panoramic view. Patrons for Peace Project is so grateful.